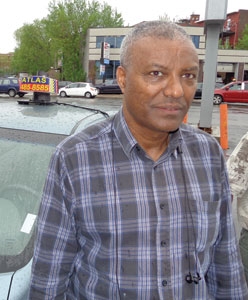 Ed. Note - Revenue Quebec announced last week that it was starting a program targeting taxi drivers. Sources also disclosed that hairdressers were next. Given the amount of government waste, it struck us as absurd for the state to aim at - once again - the easiest targets: hard-working independents without the protection of big law. RevQue did something similar a few years ago when it struck at waiters and waitresses. So we wanted you to get a look at the real life of a cabbie. Let your MNA know that enough is enough. Let's help protect our neighbours.

As if the rising price of gas wasn't bad enough for business, city taxi drivers will now be forced to worry about what the Quebec's taxman thinks about what they do for a living.

"I don't mind paying their [the government's] taxes," said Abraham Mesfun. "But they should know that I want to live an ordinary life where I can see my wife and kids every day like everybody else in Quebec."
As matters stand, Mesfun's life is far from ordinary. As a working city taxi driver, Mesfun told The Suburban that he must work up to 12 hours per day during a six to seven day week in order to make what other people might consider to be a decent living. According to Mesfun and other taxi drivers who were interviewed for this article, a good taxi driver has to make up to $200 per day if he wants to cover his bills and pay for the gas he needs to keep the car on the road.
While some drivers rent their cabs (along with its license) for up to $600 dollars per week, others own both their taxi license and their vehicle. As Mesfun and his friends took an hour off for lunch in NDG's Boulangerie Torta — located on the St. Jacques Street strip near the Cavendish intersection — They described what it costs to drive a cab in Montreal.
While a good driver can expect to make between $150 to $200 dollars per day, all of the drivers agreed that it costs up to $100 per day just to put the key in the ignition before you hit the road. Apart from the massive (secured) bank loan (eight percent plus one percent insurance fees) that most drivers have to carry in order to buy their own taxi license, the car's insurance will cost them some $2,200 dollars after which it costs a minimum $500 in annual maintenance just to keep their car on the road.
"The city's streets are in terrible shape and they are very hard on the car," said Mesfun. "It costs a lot of money to keep the cars in good condition."
Aside from the $1,000 dollars (every two years) a driver has to pay to put a special license plate on his car, the price paid for a litre of gas is also making life difficult for all of the city's working cab drivers. In the old days before a liter of gas cost a dollar (or more), drivers used to cruise the streets in order to find a decent fare. As the price of gas has now moved past $1.40 per liter, drivers now prefer to work the radio and wait for their turn at assorted cab stands because they can't afford to burn the gas they need to cruise the city.
Drivers also joke about the "Dorval lottery" to get the chance to be among the 180 cabs (out of a total of 4,000) that are allowed to join the line at Trudeau airport in order to pick up a city-bound fare. Aside from such measures as being forced to go back to what they derisively describe as the city's 'taxi school' for a two day refresher course every two years, taxi drivers are also obliged to maintain their cars and fill in a regulation driver's log-book that describes their working activities (including breaks for lunch and dinner) over any given day. If one of the city's inspectors catches a driver who failed to properly fill in his book, Mesfun said that it's worth a $167 dollar ticket and a day's work.
As a graduate of Bhopal University, economist Shariar Taheri (better known as 'Communist' to his friends) described Revenue Québec's new interest in the city's taxi drivers as nothing less than a "shark strategy". When asked to qualify his answer, Taheri told The Suburban that sharks prefer to go after smaller prey "…because the big fish can always defend themselves." Rather than going after all the big corporations who have all the money they need to hire the big lawyers and the clever accountants they need to defend their interests, Taheri believes that Revenue Québec is going after taxi drivers and hairdressers because they are all small and cannot do much to defend themselves against the province's revenue department.
Although it's always a bore to hear that the taxman has developed a specific interest in what you actually do for a living, Mesfun told The Suburban that most of the city's taxi drivers are a lot more worried about what's happening on the street than they are about a possible problem with Revenue Québec.
As previously reported in The Suburban — (May, 2009) — Mesfun was stabbed twice in the chest during a foiled robbery attempt after he picked up a fare (a woman) in Westmount near the corner of Claremont and Sherbrooke Street. After he crashed into a row of parked cars, Mesfun got out of his car and made his way up NDG's Marcil Avenue where he collapsed on the corner facing Sherbrooke Street. After a passing stranger called 911, police constable Annie-Claude Beaudoin helped save his life when she used a pressure bandage to stop the bleeding while the injured driver was rushed to the hospital.
"I thought I was dying, he said. "All I could think about was my wife and my children and how I was going to miss them when I'm gone."
The experience changed Mesfun's life and now he tries to spend as much time with his family as possible when he is not driving his cab through the streets of Montreal.
"That's all I want," he said. "I just want to be with my wife and my kids like everybody else."
Source:
thesuburban.com