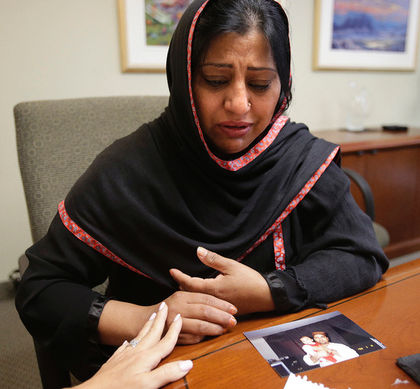 Raana Nusrat's speaks at a press conference about how the changing of the laws to do with taxi plates would make life difficult for her young family Tuesday, June 24, 2014. In front of her is a photo of her husband Mahmood Ahmad Bhatti, who was slain on the job. (Craig Robertson/Toronto Sun)
TORONTO - The taxi widows have won a reprieve for now.
An Ontario Superior Court judge has granted a temporary injunction stopping the City of Toronto from implementing part of their sweeping new reform of the taxi industry on Canada Day. Instead, the status quo for standard plate owners remains until a court challenge is argued this fall by the Toronto Taxi Alliance.
"The standard taxi licence lives. We now get our day in court in November," said Joel Barr, who owns two of the standard plates.
The controversial bylaw changes passed by city council in February created a new Toronto Taxicab Licence (TTL) — which eliminates absentee cab owners and requires holders to actually drive their vehicle. Under the changes that were to come into effect next week, those holding the old, once-valuable standard plates could still sell them as before — but they would automatically be converted into TTLs.
The taxi widows — who had inherited the plates from their husbands and counted on them as their nest egg — saw their value plummet with the announced changes.
Nusrat Raana, whose husband was murdered behind the wheel of his cab in 2006, told a press conference earlier this week that she counts on the money from leasing his taxi to support her four children. Under the new rules she will have to drive the taxi herself by 2024 or sell the plate as a less valuable TTL.
Now under the injunction, everything remains as it was until a decision is reached on the court motion she and other members of the taxi alliance will bring this fall to quash the city's planned new cab system.
Source:
torontosun.com