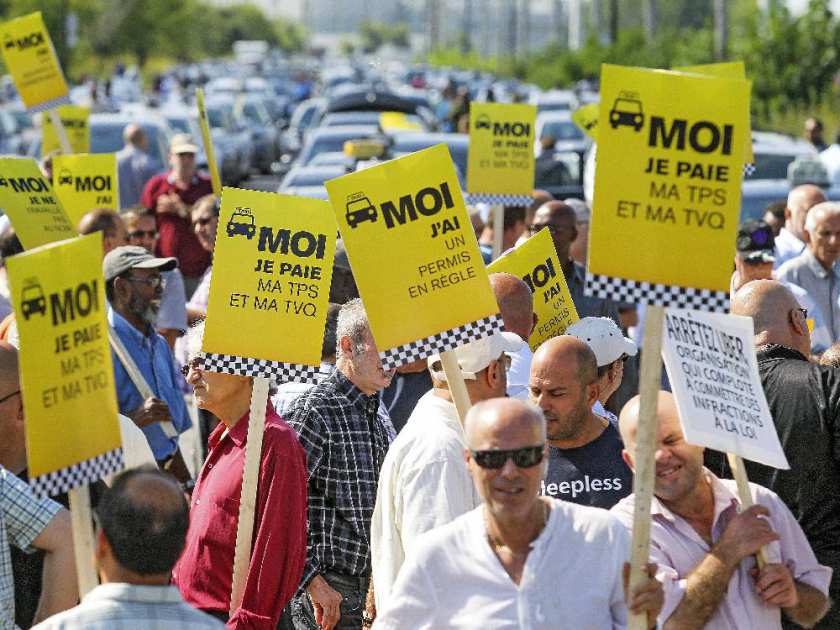 Protesting taxi drivers block Marc Cantin St. in the Techno-Parc in Montreal, Tuesday August 25, 2015. The drivers are unhappy with UberX and other alternate travel options operating in Montreal. JOHN MAHONEY / MONTREAL GAZETTE
Wednesday has been deemed an international day of protest against the mobile application Uber by taxi drivers around the world.
Here in Montreal, taxi drivers will be assembling at the Montreal Technoparc area, near where the Bonaventure Expressway meets Nuns' Island. They'll form a convoy at about 9:30 a.m. and drive slowly to the airport, so anyone expecting to fly out of town in the morning should give themselves a few extra minutes.
The taxi industry has criticized the provincial government for sending mixed signals about Uber, which with its UberX service allows people to use their personal cars to give others lifts, and get compensation. The taxi industry has said UberX is illegal, and called on the government to crack down on the company. Transportation Minister Robert Poëti invited Uber to purchase taxi licences, and Premier Philippe Couillard has said he is open to finding a way to allow Uber to operate the UberX service legally.
However, Uber's legal status is not as cut and dry as the taxi industry claims, says Avi Levy, founder and partner at 911Ticket, a law firm that helps people get out of traffic tickets.
For one, a court in Ontario has already ruled that Uber is not a taxi-dispatching company. The city of Toronto had asked the court to order Uber to halt its operations, arguing it was acting as a taxi dispatch service without the required licences. However, in a ruling issued in July, a judge sided with Uber's lawyers, saying the company merely acts as a networking agent allowing people needing a lift to connect with people who are willing to offer one.
Levy said Quebec is somewhat limited in how it can crack down on Uber, saying the company has probably not violated any provincial laws.
Instead, the city's Taxi Bureau has been going after individual UberX drivers, seizing about 200 of their cars so far this year. Drivers are fined $500, and then must pay about $1,000 to get their cars out of an impound lot.
However, nearly every time a car has been seized, the driver has contested the action in court, as Uber has said it will provide a lawyer for the affected drivers.
Levy said the real test will come when the first of those cases is heard in court, likely in the next few weeks or months.
The Taxi Bureau is using Section 4 of the provincial law governing transport by taxi — which states that anyone being remunerated for transporting someone with a car needs to have a taxi licence — to justify the seizures.
"The law is pretty clear: anyone driving another person for a fee in a car has to be authorized with a licence," Levy said. "Uber is just a dispatching service that doesn't infringe on the law as it is written. However, the individual driver clearly seems to be in infraction of Article 4."
That being said, there are ways to argue around the taxi law, and it will be up to a judge to determine the original intent of the law as it is written, Levy said.
For example, Uber claims it is a ride-sharing service, not a taxi company.
Levy said there are ride-sharing companies that allow people to split a car to go on a trip, and those companies have been in operation for years without any challenge from the authorities.
"Is ride-sharing allowed? I believe it is, and it doesn't fall under the strict rules of taxis," Levy said. "Is this really ride-sharing when there is only one other person in the car? I don't know, but it's definitely an argument I would analyze (if I were representing Uber)."
He said the fact that the drivers don't get paid directly could also help their case.
"The passenger pays online, and there's an exchange of money that happens behind the scene," Levy said. "If I had to make an argument, that would be the way I would go. It's a bit of an uphill battle, because Article 4 seems to be pretty clear."
Source:
montrealgazette.com