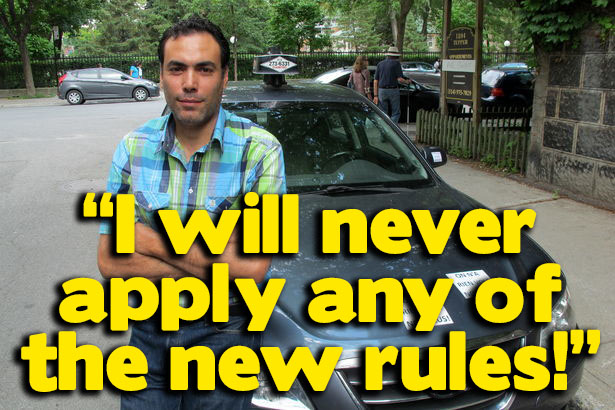 Montreal taxi drivers will now have to get out and open the door for passengers who call to request a cab under new regulations passed Tuesday by city council.
The new rule will come into effect Jan. 1, 2016, alongside others that proponents say will improve the taxi industry's image and bring it into the 21st century.
Under the old bylaw, taxi drivers were required to open the door for clients in needs of assistance, such as elderly people and pregnant women. The new rule will apply to all passengers who phone in a cab — but not those who hail one on the street or approach one at a taxi stand.
Other changes include a dress code for drivers that will require drivers to wear black trousers, a clean white shirt and closed-toe shoes with socks. They will be allowed to wear Bermuda shorts in the summer months. Women drivers have the option of wearing a black skirt.
Taxi drivers will also be required to accept electronic payments without exception and install security cameras in their cars. Fines for not complying with the new rules range from $125 to $375.
The changes come as the taxi industry faces major competition from the ride sharing service Uber.
Opposition questions changesThe new rules met with opposition last night from some city councillors, including Justine McIntyre of the Vrai Changement pour Montreal party.
Concerning cabbies having to open the door for customers, McIntyre told CBC Montreal's
Daybreak
that she isn't necessarily opposed to it, but instead wonders if it's something you need to regulate with a bylaw.
"If a taxi driver wants to provide good service, we could suggest they open the door, but is it something that should be part of a bylaw is a whole other question," she said.
McIntyre said pointed out there was already a bylaw requiring taxis to open doors in specific situations.
Taxi owner Hassan Kattoua said those will remain the only ones when he'll open a client's door.
"I will never apply any of the new rules," he said.
Source:
cbc.ca