MONTREAL – I hopped into an Atlas taxi on Wednesday night on Sainte-Catherine Street, near Greene Avenue in Westmount.

With the new provincial bylaw that passed Oct. 15 requiring all taxis to accept electronic payments, I assumed it wouldn't be a problem to pay by card.

Annoyingly for my driver, my ride was a short one.

After I told the cabbie my destination, he told me I couldn't pay by credit card.

He said Atlas had issued a warning to all its drivers, telling them some electronic card readers had been stolen.

He continued on to say Atlas had blocked all electronic card readers and his wasn't working.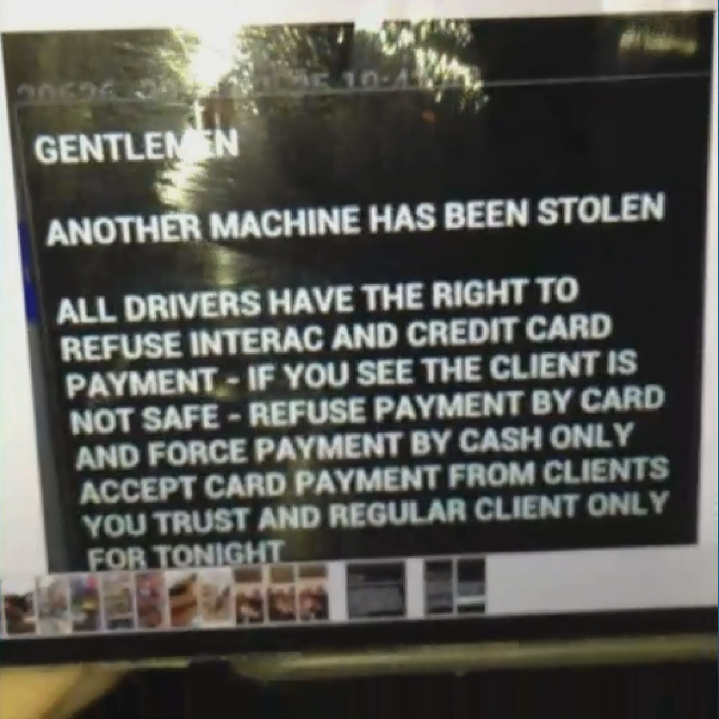 I was skeptical about whether or not the company could do that.
I told him I was a journalist and started asking him questions.
I told him I knew the law, and that the law said drivers need to accept credit cards.
He argued with me, but eventually admitted the company warning didn't tell him not to accept credit cards from anyone, only from people who looked suspicious.
The warning said to accept credit cards from regular clients – which I am.
Global News spoke to Atlas Taxi about the incident.
They insisted it was an isolated incident and their cars have been using electronic payments for seven years now.
"I'm saddened," said Martha Karounis, a dispatcher at Atlas Taxi.
"This is not what we want. We want people to jump into one of our cars at any time."
Montreal's taxi bureau would not release statistics on how many complaints it has received since the bylaw was passed from riders' cards being refused, but the fines can be severe – ranging from several hundred dollars to a three month licence suspension.
One of the reasons some drivers don't like accepting credit cards on short rides is because they have to pay five to six per cent in fees to credit card agencies.
Nevertheless, the bureau said it's just something drivers are going to have to get used to.
Source:
globalnews.ca