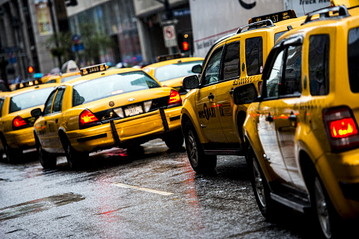 New Yorkers may soon be able to hail yellow cabs with their smartphones, depending on the outcome of a state appeals court case that's expected to be decided this month.
The Bloomberg administration and app developers Uber Technologies Inc. and Hailo Network USA Inc. thought they had finally gotten an official go-ahead to launch apps that would let pedestrians flag down one of the city's 13,000 yellow cabs with the tap of a smartphone screen.
But after a judge gave the companies a greenlight, a coalition of livery and black car companies appealed the decision and persuaded an appellate court to put the launch on hold. A decision on the appeal is expected May 20.
The crux of their legal argument centers on whether the city regulators overstepped their authority in accommodating smartphone users.
The attorney for the livery companies, Randy Mastro, a former deputy mayor, argued in an appeals brief that the city's taxi commission had overstepped its mandate by issuing rules to permit e-hailing apps as part of a pilot program. The new app rules are a "sweeping change" that should have been made by the City Council, not by a regulatory body like the Taxi and Limousine Commission, Mr. Mastro argued.
Mr. Mastro contends that the app rules violate the city's administrative code, because a cab driver using an e-hail app would be able to choose to decline a fare. Under current rules, cabbies picking up customers who hail them from the street are generally not permitted to refuse rides to their customers.
TLC officials and the city Law Department, who represents the city in legal matters, say that the TLC followed all applicable laws in launching the e-hailing pilot program, and that they expect to win on appeal. Even so, the city argues that it can authorize a trial run even if the apps run up against some existing rules.
Hailo CEO Jay Bregman, in a bid to overturn the latest court order temporarily blocking the apps, argued that the technology is simply improving upon the arm flail or the doorman's whistle.
Source:
blogs.wsj.com